Notes From The Commish 2017- Playoffs, Part 1
Commissioner can be a rather lonely position, particularly regarding the amount of grief you have to put up with surrounding the rules. My friends have made a cottage industry out of complaining about my rules. I've been badgered about the Franchise Player tie-breaker, the scoring system I use and a list of other things I won't bore you with, largely because I haven't committed them to memory. But one that I've defended constantly came back to bite me this week. See, I have a policy regarding the playoffs, stating that teams from the same division cannot play each other unless it cannot be avoided. There was a lot of "Cannot be avoided" this season because four of the six playoff teams came from the same division. After narrowly beating Lars (for the second season in a row), I thought I was in position to meet Stoner (a guy I really think I can beat) in the semi-finals and leave the job of upsetting T.J. (CLEARLY the best team in the league right now) to someone else. Then I realized, there was was no chance of that happening. If Chuck beat Hal, I would be the lowest-remaining seed and have to play T.J. But if Hal won…I'd have to play T.J., thanks to my "teams from the same division" rule. So my own rulebook is putting me in position to get eliminated in the semi-finals for the second year in a row.
On that pleasant note…
AWARDS FROM THE COMMISH
FANTASY OWNER OF THE WEEK: Hal
Despite backing into the playoffs, or more accurately, falling-through-a-hole-in-the-floor-due-to-faulty-construction into the playoffs, Hal made good on his opportunity, upsetting Chuck in round one. Given where his luck has been most of the season, we can probably look forward to Dak Prescott's leg falling off sometime in the next week.
FANTASY PLAYER OF THE WEEK: Le'Veon Bell
There were a couple semi-eerie coincidences from last year's first round of the playoffs. For the second year in a row, I narrowly defeated Lars. And Le'Veon Bell went absolutely crazy, scoring 3 TDs and getting over a hundred total yards. (In this case, though, Bell's big day nearly bounced me from the playoffs.) So, in keeping with last year's first round of the playoffs, I will share Le'Veon's entire first name, which is, according to researchers (not really) is Lemarcusdemaryiuscolossalmoonunitdweezelmulefrittersaruglarandallpepperjacktacoveon.
So you can see why he shortens it.
ASSCLOWNS OF THE WEEK: Jacksonville Jaguar fans
Originally, I wanted to give this to Vikings' fans, who, in the manner of all great toddlers, attributed their team's loss to the Panthers to an obvious conspiracy on the part of the officials. So, let me deal with that first…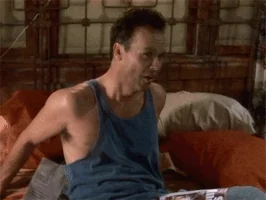 And move on to a more egregious fan base. In the waning moments of the Jaguars game against Seattle, a couple of Seahawks burst through the line and tried to disrupt a kneel down. It's a bush league play that has success rate of 0.00% and it caused a scuffle between the Jags and the Seahawks. All well and good, given that nobody got hurt and the teams won't meet again for about four years (let's just drop this "unless they meet in the Super Bowl" argument in the name of common sense.) The Jags fans, however, were less willing to let it go, hurling a variety of refreshments at the Seahawks as they left the field. Seahawks' DL Quinton Jefferson nearly climbed into the stands after getting hit with a beer.
Here's a bit of advice to Jags' fans: a) Don't enrage 300 pound, surprisingly agile men. No matter what the alcohol is telling you, this is not going to turn out well for you. b) Cameras catch nearly every damn thing in a stadium, so if you think you can hurl a beer anonymously, you're still living in the 1950's and c) yes, the beer you're drinking is some piss water domestic, but you paid $12 for the friggin' thing. Drink it, don't throw it.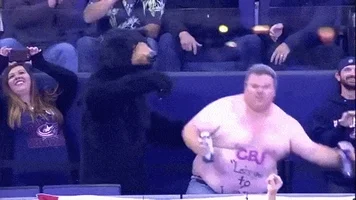 On second thought…
KICK IN THE NUTS AWARD: The Eagles
Yes, I grew up as part of one of the most tortured fanbases in all of sports…and WE feel sorry for the Eagles. Just when the team looked like it was finally on it's way to a Super Bowl title, superstar QB Carson Wentz went down to a season-ending ACL tear. It pretty much left Eagles' fans in this state…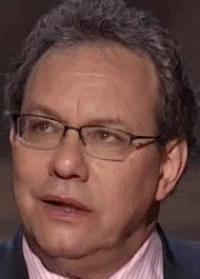 ("Do you even write these things anymore?"
"Thanks to social media, I don't have to!")
NFL MAN OF THE WEEK: Bill O'Brien
The Texans' coach stepped up for his players this past week when he left QB Tom Savage in the game after Savage took a hit that best resembled a city bus pancaking a chihuahua. Savage was left on the ground with his hands shaking. After passing the NFL's concussion protocol (apparently administered by Dr. Josef Mengele) Savage briefly returned to the game. He was later diagnosed with a concussion. O'Brien said he didn't see the hit on Savage or he would have pulled him from the game. It's too bad that NFL stadiums don't come equipped with those gigantic screens that replay every damn thing that happens in a game. But you know me. I've always been a dreamer. Besides, you can't expect an NFL coach to know everything that's going on during a game. Those Facebook status updates aren't going to write themselves.
I'm going to re-state this, because it apparently needs to keep being said. If the NFL Concussion Protocol cannot correctly diagnose a potential concussion on the spot, it is F**KING USELESS. If Tom Savage can pass that test, what kind of drooling, puking specimen actually FAILS the damn thing? A simple eyeball test would tell you that Savage should have been pulled from the game. The entire protocol is yet another example of the NFL trying to put a Band Aid on a huge problem. I'll say it AGAIN: until there are adults in the room who can address this problem meaningfully, the NFL is DOOMED.
QUOTE OF THE WEEK: Scott Hanson
This was the NFL Red Zone host's explanation as to why no yellow first down line was used in the Bills' snow-covered game against Indy:
"Now if this was a regular game, there'd be a yellow line there. But in this case, it'd be yellow snow. And nobody wants that."
This is the thing Frank Zappa warned us about.
And finally, in honor of Jon Stewart (we still need you, brother) I give you…
YOUR MOMENT OF ZEN: The NFC Coaching Carousel
I've got to be honest: the coaching carousel is my favorite part of the season. WAY more than the Super Bowl (it isn't even close, really.) The last few weeks of the season always provide a great deal of who's staying/who's going discussion. So let's focus on the NFC this week and engage in some reckless speculation, shall we?
NFC EAST
Ben McAdoo (New York Giants)
The Big Mac no longer has to worry about the hot seat, as he became the first coach of the season to get his ass canned. McAdoo had the Giants at 2-10 and while the locker room was divided, he was able to unite former players, fans and eventually ownership around the idea that he wasn't qualified to be the Giants' head coach. If you go all the way back to the beginning, McAdoo's hiring seemed kind of baffling. The Giants had missed the playoffs for four straight seasons, so clearly a move needed to be made. But in firing Tom Coughlin, the Giants simply promoted McAdoo (largely because they were afraid of losing him to another team), who retained most of the team's coaching staff, including DC Steve Spagnola. So, the team wasn't changing offensive or defensive philosophies or making any radical change beyond replacing the head coach. They were essentially saying, "Oh, that future hall of fame coach who won us the two Super Bowls? Turns out he was the ONLY problem." No word on whether or not the Giants are going to promote Spagnola to keep the whole We Suck mojo going.
Jay Gruden (Washington)
Yes, Not-Jon Gruden is back for his annual appearance on this list. This is the lot of any head coach in Washington, as owner Daniel Snyder's organizational philosophy best resembles this…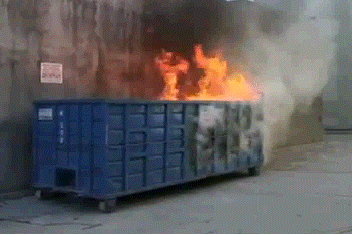 That Gruden is coming to the end of his fourth season as Washington's coach is kind of amazing, given that he's been on the hot seat since his introductory press conference. And since those four seasons have resulted in only one "Well, if no one else is going to win the division, we might as well do it" playoff appearance, it's hard to believe that the notoriously temperamental Snyder will sign up for another year of this.
But then again, it's Daniel Snyder, so…
Jason Garrett (Dallas)
Garrett probably isn't in deep trouble. But when you work for Jerry Jones, you're never going to be far from this list. The Cowboys still have a shot at making the playoffs and Ezekiel Elliott is due back from his six game suspension before the regular season is out. Even if the Cowboys miss the post-season, Garrett has the out of Elliott's suspension to save his job. Of course, that masks the dirty little truth that the Cowboys weren't playing all that well BEFORE Elliott's suspension. And say what you will about him, Jerry Jones is not an idiot. He's well aware of the Cowboys' regression.
The real risk to Garrett may not be his job performance in-and-of-itself. The L.A. Rams revival this season has been brought about thanks to hiring a precocious former coordinator in Sean McVay to be their head coach. If Jerry decides he wants his own new-and-young toy to play with, Garrett might find himself on the outs. Garrett will likely survive this season. But if Jones fires Cowboys offensive coordinator Scott Linehan and hires a young McVay-type, all bets are off for NEXT season.
NFC NORTH
John Fox (Chicago)
We're coming to the sad end of what's been a great coaching career. Fox took both Carolina and Denver to the Super Bowl. In doing so, he made the Panthers relevant for the first time in their history and set up the Broncos' Super Bowl run in 2015. (Had John Elway stayed patient, it would have been Fox and not Gary Kubiak hoisting the Vince Lombardi trophy.) As a football lifer, Fox decided to accept the Bears' job rather than take a year off after getting canned by the Broncos. At first glance, it seemed like a good marriage. Fox has always exuded a blue-collar, no-nonsense mentality that would go down well in a blue-collar, no-nonsense town like Chicago. Unfortunately, Fox had to deal with the Bears' front office, which, if not for Daniel Snyder and Niners owner Jed York, would have led the league in Nonsense for the last several years. Said front office overruled Fox and traded up to get Mitchell Trubisky (which is the name for the guy you hire to do your taxes, not be your franchise quarterback.) Why the Bears' "braintrust" thought it was good idea to draft a QB who would be developed by a career defensive coordinator whose best offensive coach (Adam Gase) had been hired away from him is a question best solved after you've hit yourself in the head with a hammer while slugging a pint of Yukon Jack (so you can adopt the same mentality as the Bears' front office.) At any rate, the plan's largely blown up and the Bears are headed for another losing season. Defend Fox though I might, his almost-three season record of 12-32 will justify his firing. Sometimes, the biggest mistake you make is showing up.
Jim Caldwell (Detroit)
This one's kind of strange. Caldwell has taken the Lions to the playoffs twice and has them in the hunt again this season. He received a contract extension during the off-season and is beloved by both his players and the Lions' ownership. But there are a few devils in these details. First, Caldwell is in the unenviable position of playing for a guy who didn't hire him, Lions' GM Bob Quinn. Second, his extension wasn't exactly hailed like MacArthur retaking the Philippines. It was apparently signed last summer and not announced until it was slipped into a Friday news dump in September. And this past week, it came to light that said extension was not the multi-year contract it was cracked up to be. It runs through 2018 with a club option for 2019. It's not like the Lions will have to clear out the vault to walk away from the deal.
The difficulty for Caldwell may not be in what he's done, but rather what he hasn't done. Rather than being in a rush to hire his own guy, Quinn may simply be losing faith that Caldwell is the guy to get the Lions to the next level (which, given that they have a franchise QB entering his prime and plenty of good pieces in place on both sides of the ball, is not an unreasonable expectation.) If the Lions don't make the playoffs, Quinn may have the evidence he needs to push Caldwell overboard. Sometimes a bold move is needed. Let's see if Caldwell becomes the victim of one.
NFC SOUTH
Dirk Koetter (Tampa Bay)
It may be a little soon to pull the plug on Koetter (who has a kickass name), but it's not unreasonable to consider it. Koetter was another of those peculiar hires, by which a franchise gets rid of a well-respected, successful coach (in this case, Lovie Smith) to keep from losing a potentially-promising coordinator to another team. Koetter's first season was decent (9-7, no playoffs) but his second has been fairly wretched (4-9, no playoffs on the horizon.) Given that his mandate was to develop Jameis Winston into a franchise QB and Winston's specialties this season have been shoulder injuries, sideline scuffles and sexual assault accusations, you'd be right to question whether or not Koetter's still the man for the job. He'll likely need to win a game or two down the stretch to save his job. But it's worth noting, that Koetter's been given as many seasons as Lovie Smith (2) and unlike Smith, has the team on a downward trajectory in his second season.
NFC WEST
Bruce Arians (Arizona)
This one hurts, given Arians' status as my favorite NFL coach and curmudgeon. But a second straight disappointing season would have anyone on the hot seat. Arians has a solid injury excuse, given what's happened with David Johnson, Carson Palmer and, lately, Adrian Peterson. There's the matter of Arians being 65 years old and having had some health issues in the past. Still, the Cards are 6-7 and not ENTIRELY out of the playoff picture. That and a string of hilarious press conferences may be enough to save Arians' job. But nothing's locked in.
ROUND ONE RESULTS
The Rat Pack (Me) defeats The People in the Band (Lars)
The Electric Mayhem (Hal) defeats Chuck (Chuck)
LEAGUE SEMI-FINALS
The Jock Sniffers (T.J.) vs The Rat Pack (Me)
The Dropkick Murphys (Stoner) vs The Electric Mayhem (Hal)
JOE DAVIS is the main character in a series of mystery novels by Randall J. Funk. Mr. Davis and Mr. Funk are delighted by the shocking similarities in their opinions and writing styles.